Address

10455 Pomerado Rd, San Diego, 92131

Contact Info

Ph: (858) 740-1025
Fx: (858) 653-3890
Amy Cleveland

Available Sports

Seating Capacity

600-4,000

Square Footage

51,000

Visit Website

solcity.com/Rentals.html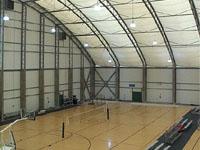 Located on the campus of Alliant International University in San Diego, California the SportCenter is a one-of-a-kind multi-use facility. The clear span building houses 51,000 square feet of continuous hardwood flooring, perfect for a variety of athletic uses and special events. The venue holds 6 regulation basketball courts, 12 standard volleyball courts, a conference room, weight room and a concession area. Also available for use are outdoor multi-purpose fields, swimming pools and a baseball diamond.